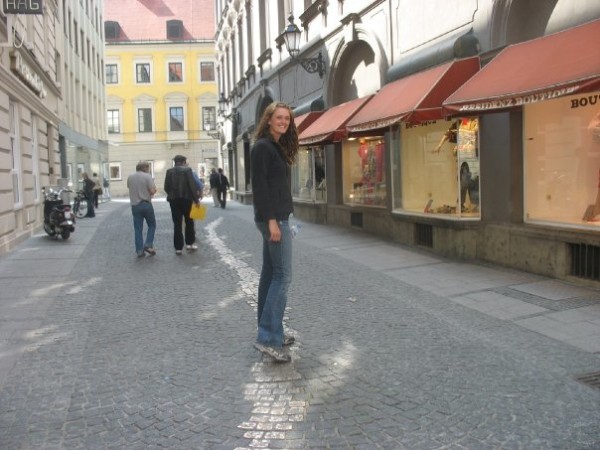 Crossing Borders
I have these recurring dreams. They all take place in different locations, but one thing is the same: I'm doing everything I can to cross a border, but something prevents me. Sometimes I get stuck in a spiral airport with no departing flights. Sometimes it's an unending lines of vehicles at a border crossing. Sometimes my car breaks down in the mountains before I can make it to my destination.
I was made to cross borders. It's what I daydream about at my desk. It's what I devour on Instagram. It's what floods my subconscious dream life every other week.
What is it about crossing a border? It's the anticipation of whatever lies ahead. It's the glorious whiplash of culture that happens in an instant. You're swimming in the French language when suddenly Italian fills your senses. It one of the dreamiest feelings I know.
Little in the world compares to those first five minutes in a new country. Your eyes are open wide and your window is rolled down. You're trying to let the culture pour into your soul just a little bit faster. You let the weather hit you like a ton of bricks. You want to know what Argentina feels like when it's all over you. Diving in the deep end of a new culture is a high like none other, and that feeling rushes over you every time you cross a border.
Atmosphere
I'm a believer in atmosphere. People carry their own emotional weather systems with them. Have you ever walked into a room and became instantly sad, only to find out that your host's dog had just passed away? That's atmosphere. People impact the atmosphere of an area, and I believe regions have a collective atmosphere as well.
The reason the American Southwest feels so unique is not just algebra. We do the math like this: cactuses + spicy chilies + dry air + turquoise + earth tones = Arizona; drizzly days + coffee + fish market + space needle + hiking boots = Seattle. But cultures and spaces are more than just a sum of their parts. There is atmosphere as well. And you can only experience it when you're there.
Fear of borders
Few people seek out the borderlands. There is quite a lot of safety inland. It's predictable, safe, and familiar. Borders are intimidating because you're agreeing to leave something behind that you have grown accustomed to. You're agreeing to alter your behavior in order to blend in. You're agreeing to unsettle yourself.
Freya Stark said, "To awaken quite alone in a strange town is one of the pleasantest sensations in the world." For those of us who are constantly looking for that feeling, we don't fear crossing borders. We fear being fenced in by them. We are a strange breed. We can't sit still, and we certainly can't imagine life without our next trip in the crosshairs.
When we see a fellow traveler that we haven't seen in a while, our first question is always: "Do you have any trips coming up?" They always answer "yes", and fill us in on their upcoming itinerary. We eat it up with voracity, as if we were coming along. The same question to our non-traveler friends always pivots to our friend's kitchen remodel or their kids' soccer teams.
Crossing Borders
Getting to the next destination can be frustrating. It can feel as if all hell has avalanched down onto my path, standing as a formidable roadblock. It's the sojourner who always finds a way. They leave the kitchen remodel until next year. They pile up personal days in order to get away. They make it happen.
And what do we do with the un-crossed borders of our nightmares? We do whatever we can to cross them when we're awake.
What borders have you crossed before? How did you cross them? What did you feel when you got to the other side.